Holiday Art Mart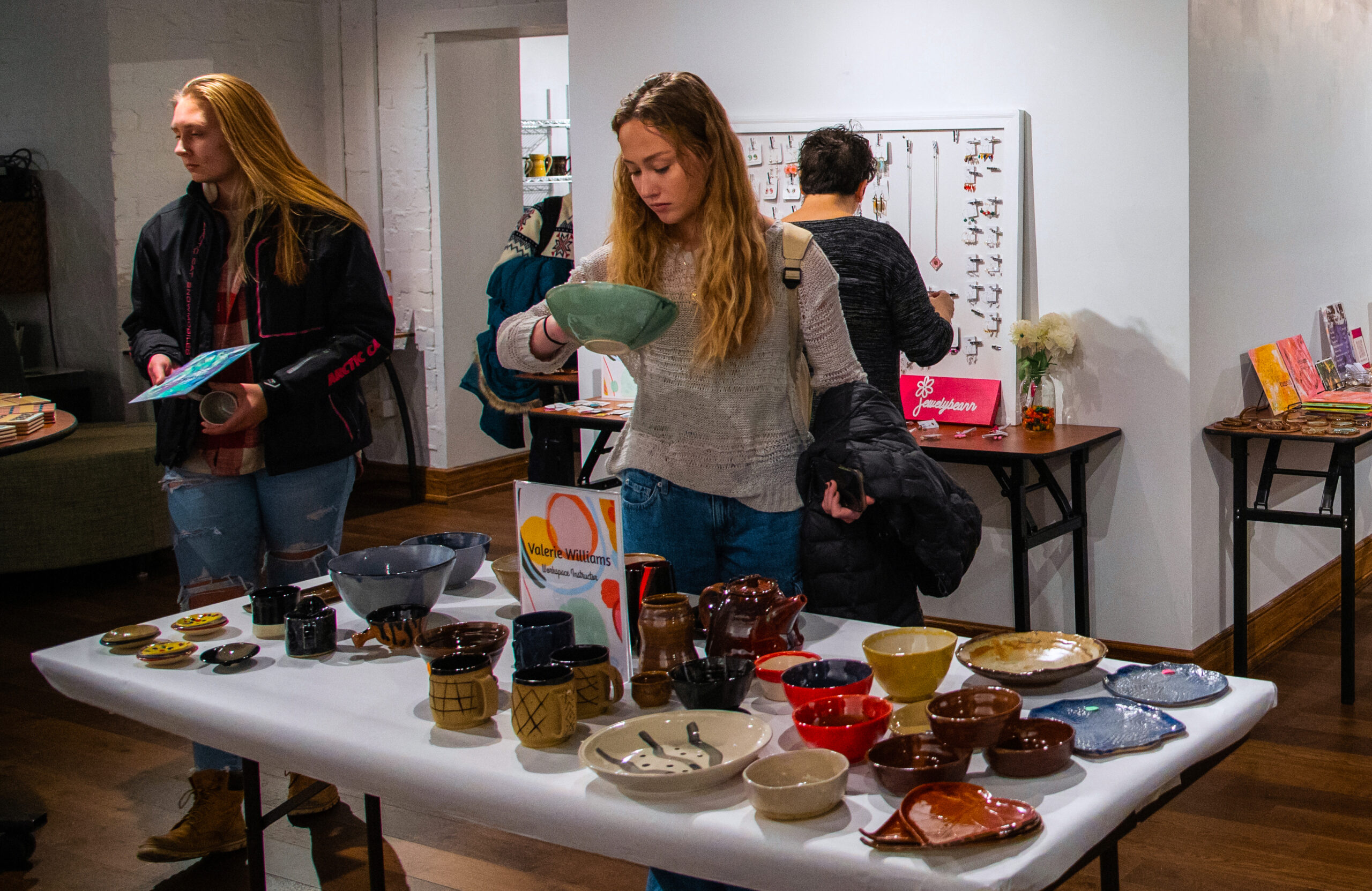 The annual holiday art sale at the Memorial Union will be held November 28 through December 1 in MU Art Gallery located on the first floor.
Hours are Tuesday 4-7 p.m., Wednesday 11 a.m.-4 p.m., Thursday 11 a.m.-7 p.m., and Friday 11 a.m.-7 p.m. (and open during WinterFest).
Featuring local artists, makers, and crafters, our holiday sale has something for everyone on your list! From budding creatives on campus to professional artists, you will find pottery, blown glass, jewelry, décor, accessories, and prints. Sales support individual artists, The Workspace, and the Gaffer's Guild. This year's artists include:
• Jamie Beal – Macrame items
• John Burright – Wood decor, boxes, and ornaments
• Jillian Dunlap – Resin jewelry
• Karla Embleton – Pottery and crochet cacti
• Kristin Erdman – Cards, paper goods, and more
• Hayley Goddard – Jewelry
• Chloe Grote – Coaster tiles
• Judy Lemish – Upcycled jewelry, bags, and accessories
• Natalie McDaniels – Custom caricatures (5 p.m.-close Tuesday, Thursday, and Friday)
• Moi Pottery: Truc Nguyen and Hao Cao – Pottery
• Rhonda Scott – Glass bead and gemstone jewelry, upcycled book journals, and marbled paper
• Anka Snider – Crochet hats and bags, mixed media paintings, and photos
• Audrey Stirling – Jewelry
• Colton Vance – Paintings
• Caroline Warren – Pottery, cards, prints, stickers, and coloring books
• Valerie Williams – Pottery
• The Gaffer's Guild – Blown Glass
The Memorial Union is located at 2229 Lincoln Way on the Iowa State campus. Hourly parking is available in the ramp on the east side of the building.