Get ready to rock: Hairball is coming to Ames on July 25.
Called a "bombastic celebration of arena rock," Hairball is like 20 concerts in one night. The lights, sound, smoke, fire, bombs, and screaming fans is a rock'n'roll experience you won't soon forget.
Hairball will headline an evening filled with musical entertainment, food vendors, games, and beer gardens in Downtown Ames on Tuesday, July 25. Riders, Ames residents, and music lovers from central Iowa can expect a great show. Hairball is part of the RAGBRAI 2023 Concert Series.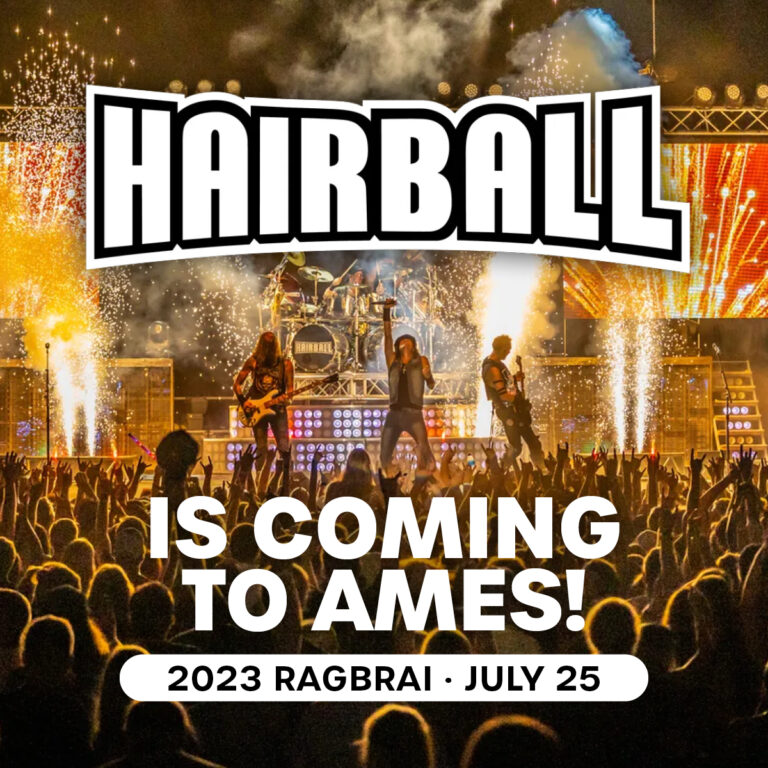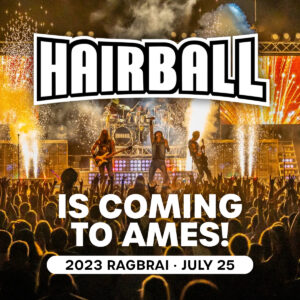 About Hairball
Vocalists Kris Vox, Dave Moody, and Drew Hart lead the band through a 2+ hour, mind-blowing, and drop-dead accurate homage to some of the biggest arena acts in the world. Van Halen, KISS, Mötley Crüe, Queen, Journey, and Aerosmith are but a few of the acts fans will see brought to life. The Hairball stage becomes an entirely new rock concert before your very eyes countless times throughout the night.
The motor that drives the Hairball dragster consists of HBK on the electric bass, Billy on the drums, and Happy on the lead guitar. These Rock & Roll soldiers pride themselves on nailing some of the most memorable licks and chops of all time, while adding their own style and flare that they've cultivated over decades of tireless performing. This isn't a side job. These guys eat, sleep, and breathe rock'n'roll!
In 2023, Hairball is celebrating its 23rd year of rocking hundreds of thousands of people across the country. Constantly adding more characters, more pyrotechnics, more lights, more sound, more props, more surprises…more everything! While Happy often tells the audience, "Today is the first day is the rest of your life!", Hairball performs every show as though it could be their last. Every night is a 100% full-on, no-holds-barred, exciting, chaotic, fiery party that has to be experienced to be believed!