Bicyclists from RAGBRAI, the Register's Annual Great Bicycle Ride Across Iowa, will be arriving in Ames on Tuesday, July 25, and spending the night before continuing their eastward ride across the state. To provide an overview of the event, including information on how to get involved, two Town Hall meetings have been scheduled for 1 p.m. and 6 p.m. on Thursday, June 22, at Ames City Hall council chambers, 515 Clark Ave.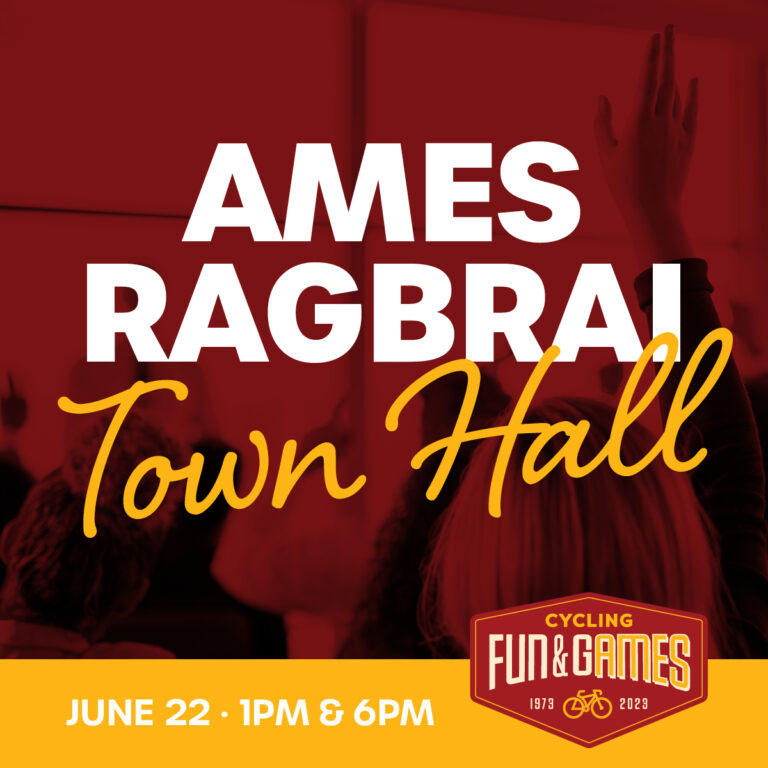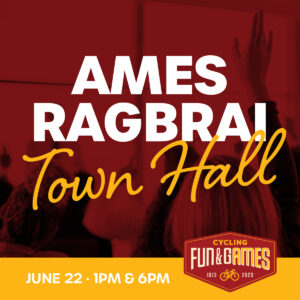 "This is a great opportunity to showcase everything Ames has to offer. It helps promote local businesses and allows residents to get involved through volunteering or hosting riders," said Kevin Bourke, president & CEO of Discover Ames. "We offer the Town Halls so residents can stay informed and ask questions about Ames RAGBRAI. We are anticipating another great year!" 
The RAGBRAI route into Ames has cyclists entering northbound on South Dakota Avenue, then going east on Mortensen Road. As riders approach Jack Trice Stadium, they will ride through the stadium concourse, exiting across the East Gateway Pedestrian Bridge. Riders and members of the community are invited to Downtown Ames after the event to enjoy live music, beer tents, and a variety of food vendors.  
Volunteers are needed to participate in the welcome rally, help at campgrounds, information booths, hosting riders, and many more opportunities. More information is available at discoverames.com/ragbrai/, or contact Discover Ames at (515) 232-4032 or at info@discoverames.com.  
Can't attend in person? Live stream the meeting!
Ames Television Live Stream – http://ames.granicus.com/player/camera/2?publish_id=3&redirect=trueAmes Television YouTube – https://www.youtube.com/channel/UC5T8PtpOZ94eXt-wQFobSSgCity of Ames Facebook – https://www.facebook.com/cityofames
For more information, contact: 
Carole Gieseke 
Discover Ames director of marketing and communications 
(515) 956-4602 / caroleg@discoverames.com 
DiscoverAmes.com