'Twas the Night Before the Circus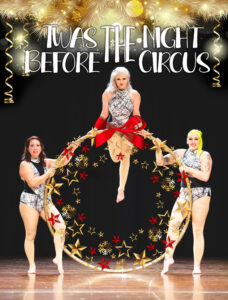 'Twas the night before the circus, and all through the theatre
Not a creature was stirring, not even a reighdeer;
The stage was all lit up so bright,
In hopes that the audience would have a great night.
When out on the stage there arose such a clatter,
I sprang down the aisle to see what was the matter.
Aerialists! Jugglers! Living Snow Globes, and more!
I could not even believe what the show had in store!
But I heard them exclaim, while they were such a sight,
HAPPY HOLIDAYS TO ALL, AND TO ALL A GOOD-NIGHT!
Tickets are only $5