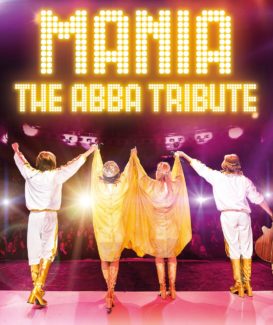 Mania: The ABBA Tribute Tour
Take a chance on MANIA…and you won't be disappointed! The world's No. 1 touring ABBA tribute will perform in Ames on Jan. 29.
MANIA (formerly ABBA MANIA) formed in 1999 and the show has been selling out theaters and concert halls internationally ever since.  The thirst for this sensational recreation of ABBA's concert gets stronger every year especially as ABBA has released its first album since 1982 in November 2021.
Agnetha, Bjorn, Benny and Anni-Frid, collectively known as ABBA, dominated the charts for nearly 10 years and enjoyed nine UK No. 1 hits. At their height they became Sweden's highest export earners, amazingly, outselling Volvo cars. 'ABBA Gold' was continuously in the Album Charts throughout the nineties and is one of the biggest selling albums ever.
ABBA's timeless songs were written to be enjoyed live and MANIA gives you exactly that. Two hours of uplifting, dance inducing and sometimes heart-breaking songs, fully live with fantastic staging, lighting and effects. The show recreates ABBA's sound not only perfectly, but respectfully too. MANIA is not only for life long, die hard ABBA fans but the new generation of fans, who never had the opportunity to see 'ABBA' live. Hits include 'Dancing Queen', 'Waterloo', 'Mamma Mia', 'The Winner Takes it All', 'Super Trouper', 'Fernando', 'Take A Chance On Me' and many more that continue to fill dance floors worldwide.
If you're looking for an excuse to party, reminisce or simply be entertained by the best music ever, then visit  https://www.ticketmaster.com/event/06005C8193F52DA4 Tickets are $27.50, $44.50 & $64.50 and are available online at Ticketmaster.com or in person at the Stephens Auditorium Ticket Office.