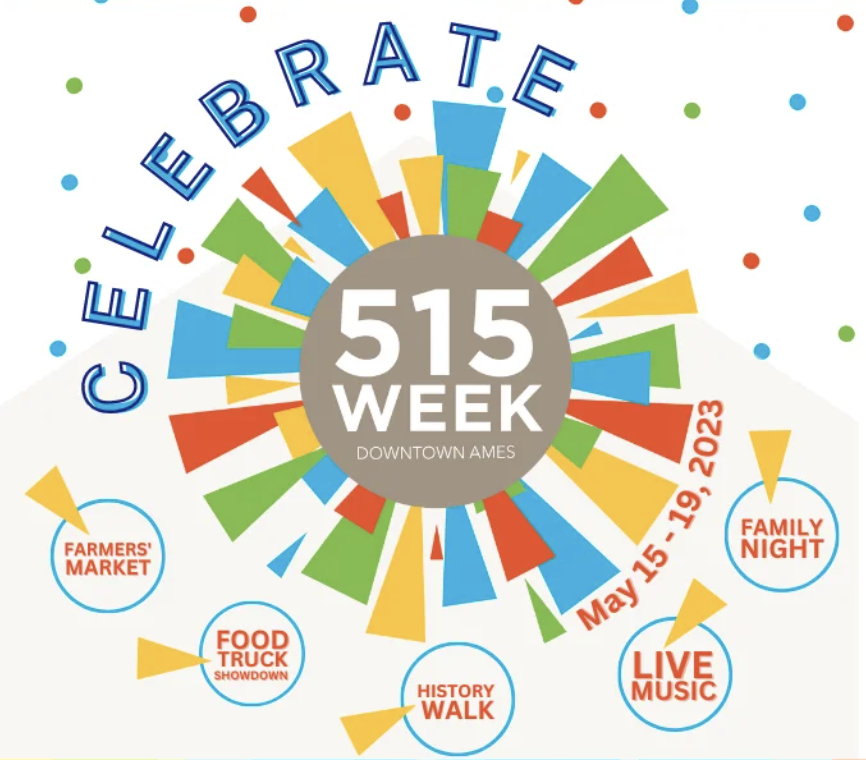 Ames Main Street 515 Week
Mark your calendar for Downtown Ames' annual 515 Week! 515 Week is a spring celebration in Downtown Ames for those who live, work, and play in the 515 area code, beginning on 5/15.
Monday, May 15: Business specials and $515 Giveaway 
Participating downtown businesses will feature "515" specials and sales during normal business hours. Participate in a giveaway of $515 all week long. Winner announced Friday night.
Tuesday, May 16: Family Night 
Face painting, balloon artist, and family crafts at Tom Evans Park, 5-8 p.m.
Wednesday, May 17: Evening Farmers' Market, Music, and Beer Garden
A special Ames Main Street Farmers' Market, with a beer tent and live music by Jake Doty, will be located on Fifth Street between Kellogg and Douglas; a food truck showdown will be located on Douglas between Fifth Street and Main, 5-9 p.m. Food trucks will serve tacos, pizza, donuts, Kona Ice, and other street food.
Thursday, May 18: History Walk
Downtown History Walk sponsored by City of Ames Historic Preservation Commission and Ames History Museum. Walk through downtown to learn more about the area's history, and enjoy live music. Many businesses will be open late.
Friday, May 19: The Big Bash
The Big Bash will feature a live music concert by The Punching Pandas in Bandshell Park, with a beer garden and food trucks, 6-9 p.m.