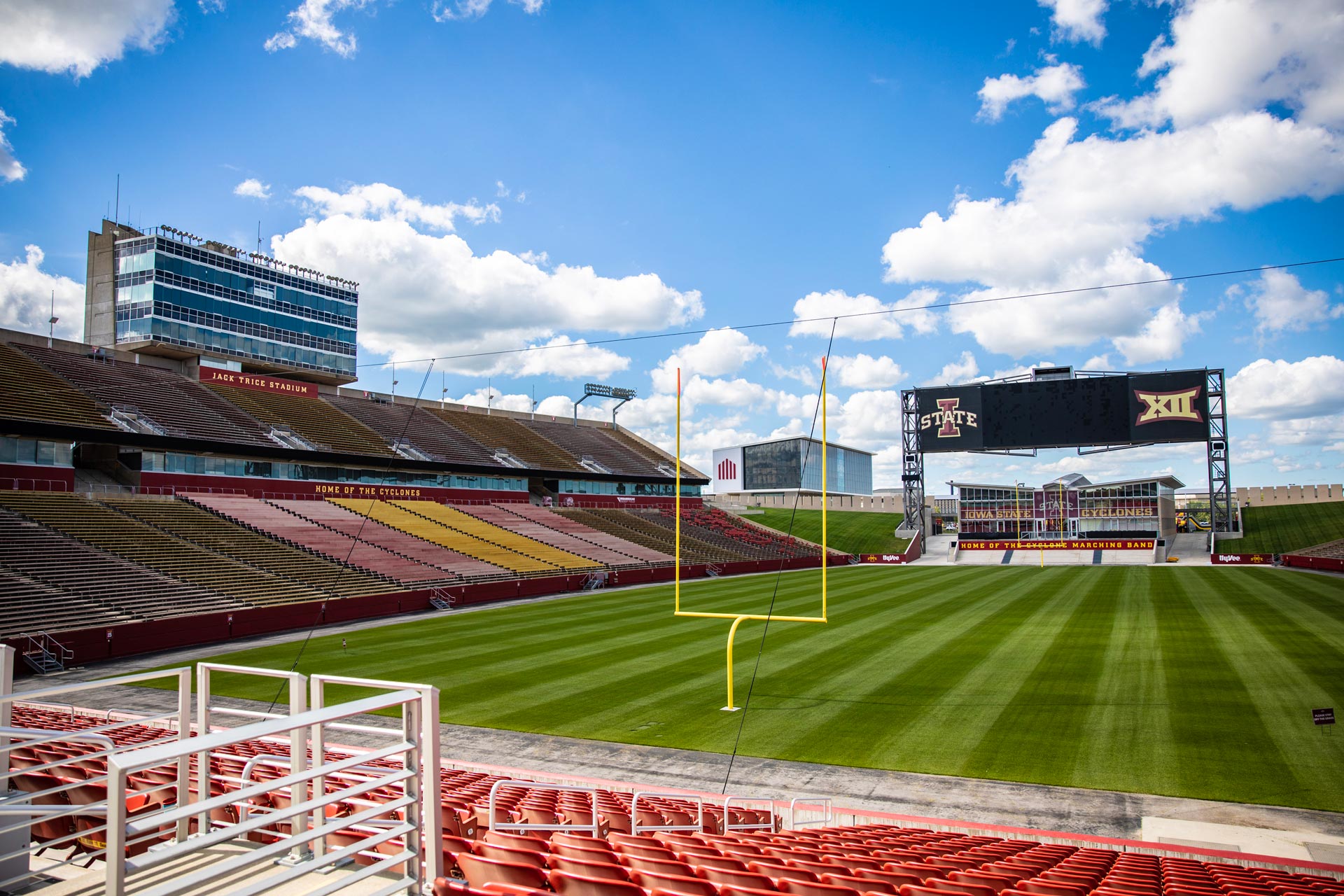 Are you ready for some Cyclone football? Jack Trice Stadium won't be empty for much longer! The 2022 football schedule can be found at cyclones.com.
Matt Campbell's Cyclones are predicted to finish sixth in the conference (Big 12 media poll). The team's 2021 record was 7-6 overall and 5-4 in the Big 12. The Cyclones lost to Clemson in the Cheez-It Bowl on Dec. 29.
Fan information
Parking lots open at 7 a.m. or 6 hours prior to kickoff, whichever is earlier, and stadium gates open 90 minutes prior to the game. For parking information and for a list of what is (and isn't) allowed in the stadium, click here.
The bridge
With the completion of a new $10 million East Gateway Bridge, dodging traffic to get across University Blvd. is a thing of the past for Cyclone football fans.
The quarter-mile-long, elevated walkway was funded by donors. Located just south of the intersection of University and S. 4th St., the bridge will be ready for fans attending this year's first football game on Sept. 3.
The bridge connects the Jack Trice Stadium area to expanded parking east of University Blvd., including a new RV parking area. (Note that general public parking is now $25 per car or $100 per RV.) The pedestrian walkway is an open-air bridge and will be accessible year-round.
University Blvd. runs under the new bridge. Pedestrians will still be allowed to cross University Blvd. at the intersections of S. 4th St. and S. 16th St. at ground level if they prefer. Because the project includes new fencing along the east side of the stadium, pedestrians will be encouraged to cross at those intersections.
Tickets
Three-game mini packs and single-game tickets for the 2022 Iowa State football season went on sale for donors and football season-ticket holders on Tuesday, Aug. 9. Tickets sales for general public began on Monday, Aug. 15.
For fans without tickets, two great places to watch the game in Ames are Wallaby's (in north Ames) and Welch Ave Station (in campustown). Not in Ames? You can catch the game on Big 12 Now on ESPN+.
Shop like a Cyclone
Don't forget to gear up for the season! Ames stores have what you need for late-summer games as well as those chilly fall events. Try Barefoot Campus Outfitters, Dogtown University, or Iowa State University Book Store for all the latest fashions and sports-worthy accessories.
Go, Cyclones!