Ames is a great bicycling community, welcoming casual riders and experienced pros alike – Several bike trails are near Ames and the surrounding areas, and the city has designated bike lanes just for riders.
First, check out the City of Ames's downloadable bicycle map for a summary of laws and tips, as well as path descriptions.  
Alluvial Brewing Company is just three miles north of Ames. Their indoor taproom features 10 unique varieties of craft beer dedicated to quality and taste while celebrating Iowa at the same time. Rather be outside? They offer an outdoor patio with seating, making this a great place to stop for a cold one before hopping back on your bike. 
Take your a ride at Tedesco Environmental Learning Corridor, a 37-acre community space that features paved and natural trails to bike on. Or, head north to Ada Hayden Heritage Park for a lap around the beautiful lake.
Need a drink after all that biking? Head to Mother's Pub for their popular drink called Mother's Milk, an iced twist on a classic spiked coffee. Sip on the patio while you immerse yourself in the atmosphere of campustown.  
If you're looking for a quick bite, head to Community Choice's Food Truck Park on Lincoln Way. The Parc is the first and only food truck park in Iowa with up to six different delicious food trucks to choose from at a time. Check their calendar to see what trucks are parked and serving food!
Everybody needs a sweet treat after a long day of biking. Pull up to Tropical Sno, located in the North Grand Mall's parking lot, to concoct a shaved ice recipe tailored to your liking.
Or, visit the ISU Creamery, located on Iowa State's campus on the second floor of the Food Sciences Building. The Creamery can be difficult to get to via vehicle, so while you're biking is the perfect time to try it out – and see more of campus! Not only is their ice cream delicious, it's all Iowa State-themed and made by Iowa State University students.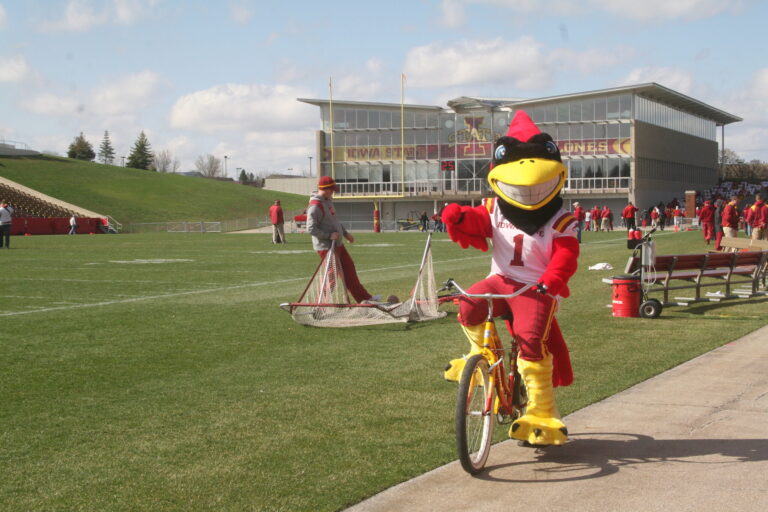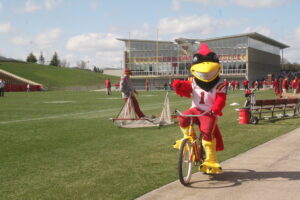 Photo courtesy Becky Perky
Skunk River Cycles in downtown Ames sells bikes, helmets, parts, tires, shoes, clothing, and more. While they feature Cannondale, Raleigh, and Marin cycles, they provide service on any make, model, or year of bicycle. Drop by to make a new purchase, get a repair, ask for advice, or just to say hi to some fellow bicyclists! 
While safety is always the most important goal when bicycling, accidents do sometimes happen. Whether you have a scrape or a much more serious injury, Mary Greeley Medical Center can help. They offer high-quality, cost-effective healthcare services to both residents and visitors of central Iowa. This includes emergency medicine, surgical services, cardiac care, and more. 
Enjoy your ride!