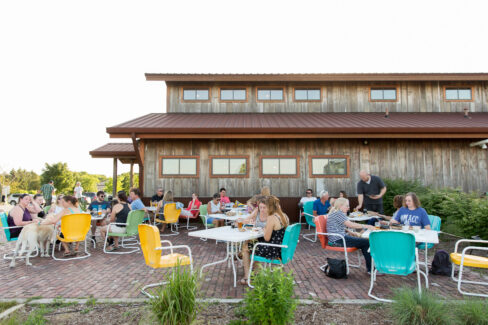 The weather is heating up, and patio season is here. We've rounded up some of the best places to sip, eat, and sit outside in Ames.   
Start your day at Stomping Grounds with a latte in the early hours or close out the work week with a mojito at Bar La Tosca. Enjoy people-watching under a shaded canopy at the best patio in Campustown.
Wallaby's Bar and Grille takes dinner to new heights with their rooftop patio. Enjoy their street tacos with a mule flight and top it off with beautiful views of North Ames. Friends and family will love this Cyclone-enthusiast eatery.   
Refresh in the outdoors at Little Woods: Herbs and Teas downtown. Their adorable seating out front is perfect for taking in the day. Pro-tip: in the hot summer months, try their teas over ice!
A long-time favorite, Dublin Bay has recently doubled its patio size (Double the Dublin; we're in!) to fit more outdoor patrons. Enjoy their selection of Irish whiskeys that somehow taste even better outside, paired with classic Irish fayre. 
For a quick, fresh bite head over to West Street Deli near Campustown. Made from scratch sandwiches on a relaxing patio = the perfect lunch break. 
There's something in Ames for all outdoor lovers. If your idea of enjoying nature is on a patio, then there's something for you in North Ames, whether that be a glass of wine or a unique brew. Prairie Moon Winery offers a beautiful patio amidst a growing vineyard. Nearby, Alluvial Brewing Company provides a top spot for sunset watching and ale sipping.   
Love the view but don't trust the Iowa weather? Head to Sweet Caroline's in Downtown Ames for a unique patio, protected from the elements, yet still outdoors. Fried chicken and craft cocktails? Say no more, we'll be there! Sweet Caroline's; so good, so good.