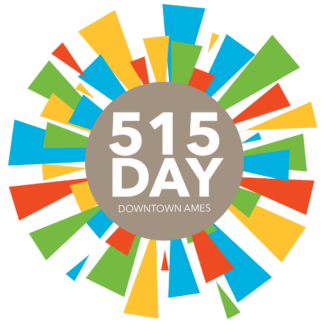 Celebrate 515 Day on Friday, May 13 in downtown Ames, and continue the fun throughout the weekend.
515 Day, typically held on 5/15, is a spring celebration for those who live, work, visit, and play in the 515 area code. This year's event begins on 5/13 and includes a block party with family-friendly activities, special deals, and more. The party runs 6-10 p.m. and also features a beer garden with live music performed by the Burnin' Sensations.
On Saturday, head to the Ames Main Street Farmers' Market (8 a.m. to 12:30 p.m.), and be sure to stick around to shop the stores, many of which will feature extended 515 Day sales. There will even be 515 business specials on Sunday until 5 p.m., and shoppers will be entered to win community cash!
The Ames Main Street team will be tabling in the district throughout the weekend, so stop by and say hello! For more information please visit amesdowntown.org.